A New Standard In Interactive Pleasure!
A new standard in interactive pleasure has been set with Keon by KIIROO; the smartest automatic masturbator on the market today.
Embodying both innovation and design in a small, compact casing; KEON is the ultimate automatic Sex Toy for Men. Its ergonomic shape and intuitive grip control helps optimize your experience in limitless ways. All you need to do is let KEON unleash your fantasies without constraints.
The Stroker
This Stroker is KIIROOs first ever stroker designed with the most realistic sensations in mind. The patented material gives you the most pleasurable experience possible. It is so close to the real deal. This stroker was designed to fit perfectly in KEON by KIIROO.
Capabilities of KEON by KIIROO include
The ability to connect with other KIIROO or FeelTechnology-enabled toys

The ability to connect with 2D and Virtual Reality interactive adult content

The ability to connect to interactive webcams

The ability to reach speeds of up to 230 strokes per minute in its shortest, fastest mode.

All content on FeelMe.com and other interactive partner sites are compatible.
What You Get
1 x Keon by KIIROO

1 x KIIROO Stroker

1 x USB Charging cable
Feel What You See. In Real Time
Experiencing a mind-blowing orgasm is not an exaggeration! Connect your KEON to an extensive list of interactive erotic content produced by some of the world's leading adult sites. Feel every thrust, moan and groan in real-time.
Be In Control
Controlling the speed and length of the stroke is at your fingertips with KEON. The tactile buttons make finding the perfect stroke combination as easy as can be
Ergonomics
Forget the cumbersome and bulky male masturbators of the past. Every detail in KEON's ergonomic design is there to enrich your most intimate moments
Comfort
KEON's robust design is the perfect shape for the tightest grip. Holding KEON is effortless thanks to the intuitive curves. Indulge in your desires without distractions or limits
LED Lighting
KEONs elegant lighting system has an instinctive design that reacts responsively to your commands. It provides you real-time information about the connection mode, speed, and battery life
Unlike Any Other Stroker
Use it alone or combine it with KEON. Our new Stroker comes with a high-performance sleeve designed to stimulate every part of your penis with real skin-like texture and sensations
Real Sensation
Our quest has always been to innovate and achieve the highest quality products. We created the KIIROO Stroker material for our new line of Strokers. Our formula is body-safe and resembles real skin-like softness and texture
Helix Power Texture
The real feelingl sleeve has a welcoming internal texture designed to maximize your pleasure. Experience the most pleasurable sensations created by the spiral ridges as you slide into your new favorite place
A Whole New Way To Connect
Navigating the new world of interactive pleasure is easy and safe. With the latest generation of our app you can connect with friends, make video calls, watch interactive videos, control Bluetooth-enabled devices and text one another all in the same place
Interact With Your Partner's Device From Anywhere In The World
Pair KEON online with other KIIROO products, and let your partner give you the touch you crave, no matter the distance
Like What You See? Feel It!
Escape to an alternate reality filled with interactive pleasure. Combine KEON with all mobile VR goggles and interactive VR content. Experience high-quality erotic videos filmed in180 and 360 degrees, with 3D stereoscopic views from head to toe
Sizing and Product Info
Stroker Outer Casing Material: ABS + PC

Stroker Sleeve Material: TPE

Stroker Size: 7.87" x 3.30"

Keon Material: ABS, PC, Silicone

Keon Size: 8.66" x 5.11" x 5.74"

Battery: 16,8V 700 mAh

Charging: 4 hours

User time: 30 min-2 hours depending on usage
Cleaning
Always clean your Keon sleeve thoroughly after each use. Remember that the Keon is not waterproof. Use a moist or damp cloth.
Remove the RealFeel stroker from the Keon

Remove the RealFeel sleeve from the outer casing of the real feeling stroker

Rinse the sleeve with warm water, a mild soap and water or toy cleaner

Allow to air dry

Rinse the outer casing or wipe down with antibacterial wipes

Dry completely before placing the sleeve back in the casing

After your real feeling sleeve has air dried, use cornstartch or a renewing powder over your sleeve so that it remains smooth and soft
NOTE: Use with water based lubricant. A silicone based lubricant could deteriorate the real feeling sleeve material. Do not use oil or hand cream as lubricants either.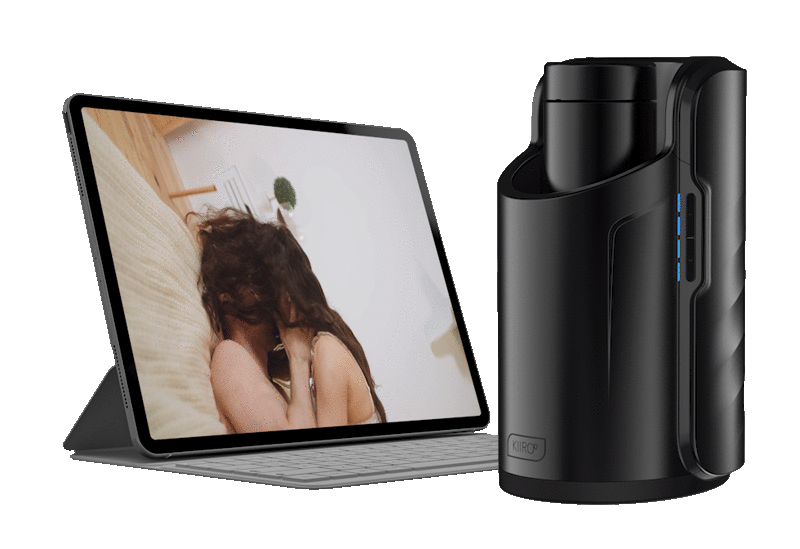 Kiiroo Keon Combo Set Rechargeable Interactive Masturbator With Stroker - Black
Brands Orion
Product Code: KIIR11032
Availability: In Stock